Upholstery Cleaning Los Angeles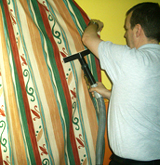 Hollywood Hills Carpet and Air Duct Cleaning has always illustrated a deep rooted passion for upholstery cleaning that separates us from the competition. At Hollywood Hills Carpet and Air Duct Cleaning you have the option to choose from a wide range of quality services. Let our experts handle the stains and mildew when you need upholstery cleaning in Hollywood Hills. It isn't easy maintaining an immaculate home when your décor comprises of upholstered items such as sofas, ottomans and medieval style drapes. You don't want dust mites or bacteria and other micro organisms inviting themselves to join the events that you host in your living room on a weekly basis. Our Hollywood Hills upholstery cleaning service is the best as we pay keen attention to every single aspect of your upholstered furniture. Eco friendly solutions are the preferred choice when we're hired to do upholstery cleaning in Hollywood Hills. No matter how simple the item, from a patio chair to the intricately designed sofas and embroidered drapes, we guarantee that the job will be carried out responsibly, minus harsh chemicals that emit hazardous fumes. We remove odors and stains such as urine, red wine and any other stain that is affecting the beauty of your possessions. Simply relax, put your feet up and allow us to work wonders with our cleaning solution. We handle materials as durable as leather and suede and materials that are as delicate as silk and cotton so the same strategy isn't used every time. You have absolutely nothing to worry about! Let us restore your upholstered pieces during the process. Choose Hollywood Hills' upholstery cleaning and avoid getting constant disappointment from pointless cleaning chemicals that you pick off the shelf. If you have any other questions in relation to our approach,
simply pick up the phone and call right now (323) 487-0186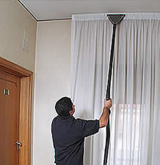 The Hollywood Hills Carpet and Air Duct Cleaning team advises your customers to schedule more than one cleaning service on the same day if it's the case that they need more than job to be carried out in their homes. Enjoy rate reductions when you make an appointment for Hollywood Hills' upholstery cleaning as well as the tile cleaning service for the same date.  This will definitely save you time and money! The last thing you need is a buildup of environmental hazards that lead to medical expenses that could've been avoided in the first place. What are you waiting for? Make your appointment for upholstered furniture cleaning in Hollywood Hills right now to maintain the semblance of solace that every home deserves. Our environmentally-friendly, affordable solutions will leave your home in a state that one could only refer to as the perfect escape when you get in from work. We are waiting to hear from you.
Call us now for your free price quote (323) 487-0186